Baird Listed Among UK's Best Workplaces
Firm ranks No. 17 on 2017 List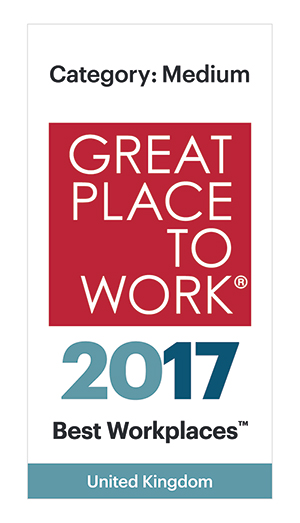 For the third year in a row, Baird was recognised as one of the UK's Best Workplaces by Great Place to Work®Institute UK, a prominent consultancy specialising in employee research and workplace cultures.
The firm ranked No. 17 in the Medium category this year. The annual UK Best Workplaces list features organisations with a high-trust, high-engagement workplace culture.
More on Baird's Great Place to Work® UK Recognition
Baird is also recognized among the top workplaces in the US Learn more about the firm's other best place to work accolades.
Great Place to Work® employs a rigorous methodology in evaluating participating organisations. It includes both an employee survey and an audit of each organisations' management and HR practices. To be successful, organisations must achieve a high minimum score in the employee survey, which measures trust and engagement levels.