The Value of a Strong Corporate Culture
Can it really drive a better bottom line and improve business results?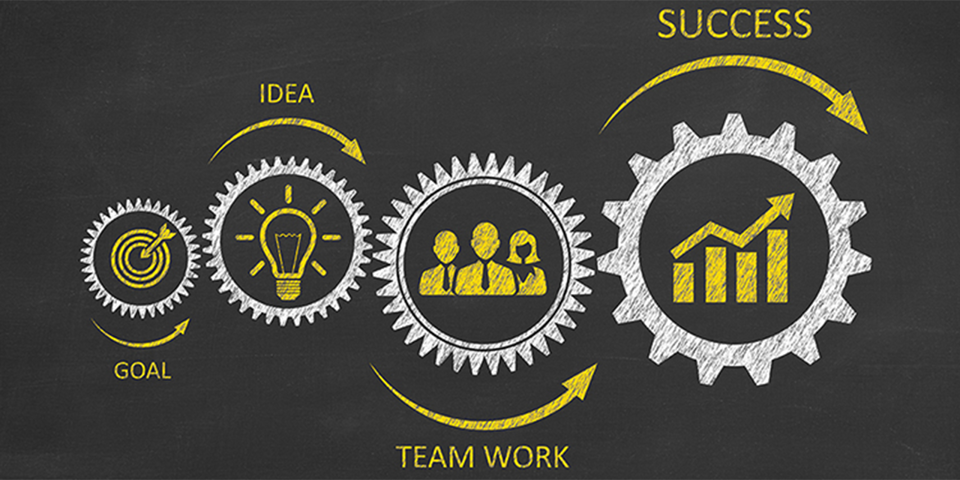 What's the business case for a strong corporate culture? Why should business leaders allocate time, money and personnel to a concept that's tough to define and even harder to measure?
A strong corporate culture strengthens internal and external engagement with a business by enhancing employees' experience in the workplace and raising a brand's profile outside the company's walls. It's also vital in tight labour markets as employers compete for talent. Not only does a strong culture create an environment that attracts and retains top talent, but it can also improve financial performance.
Impacts to the Bottom Line
While the people benefits are largely understood, the financial benefits are often less apparent and therefore, often underestimated. But consider the financial performance of companies singled out by FORTUNE magazine's well-respected annual list of its 100 Best Companies to Work For®, as compared to the performance of its peers. A 2018 analysis by FTSE Russell found that an equally-weighted index of publicly traded companies ranked among FORTUNE's 100 best produced a 935% increase in total stock return from 1998 through the end of 2018 -- 3x more than the equivalent returns for the benchmark US all-cap Russell 3000 Index and US large cap Russell 1000 Index.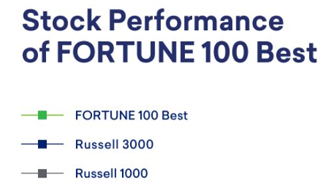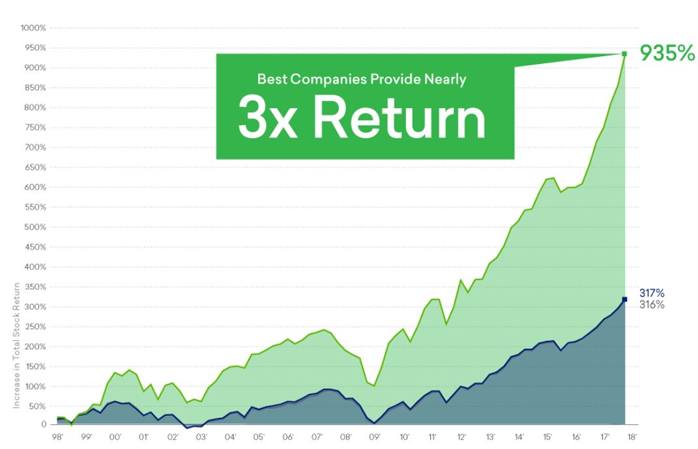 ©2018 Great Place to Work® and FTSE Russell
Other research from Grant Thornton and Oxford Economics supports this positive trend between culture and financial returns - a correlation that is already well recognised within the private equity community.
Often viewed as financial investors with little regard for corporate culture, private equity firms are paying a lot more attention to not only the culture of the companies they're investing in, but also the cultures of the other service providers they're working with.
Global financial services firm Baird, which advises private equity firms on mergers and acquisitions, sees top private equity professionals increasingly focused on this area. "These investors absolutely want to know what they're acquiring from a culture perspective" said David Silver, Head of European Investment Banking at Baird. "This is particularly true in technology and technology-enabled services businesses where employees are so important and culture is regarded as a cornerstone of the business.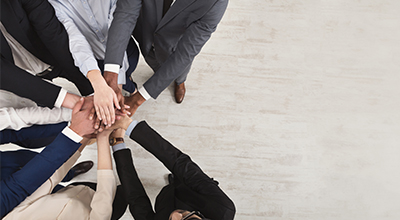 "These private equity firms also use that same lens when seeking an investment banking partner. And we've also seen it work in reverse, with the management of the to-be-acquired company thinking long and hard about the culture at a particular private equity firm. We've seen companies walk away from very attractive buyout offers from a private equity firm due to concerns around the similarities or differences to their company's culture".
The research backs Silver's experience. In a study conducted by Duke University's Fuqua School of Business and Columbia Business School, 46% of executives said they would abandon an acquisition deal if they discovered the target company had a culture that wasn't aligned with their own.
The Secret to a Strong Culture
Most business leaders acknowledge the power of a strong culture, but they're less clear on how to obtain it in their organisations. In the aforementioned Duke-Columbia study, researchers surveyed 1,800 CEOs and CFOs from companies around the world. More than 90% of the surveyed executives said culture was important at their organisations, and 92% said improving culture would increase the value of the company. But only 15% of respondents said their culture was where it needed to be.
While there's no prescription for a strong culture – each organisation is too different to provide a single, clear path – there is a shared value among the companies who've hit their culture stride.
Beneath the different perks and benefits – some of which may be normal in one industry and impossible in another – is a shared fundamental principle: Treat your employees as the company's most important asset, carefully considering each worker, with an eye toward how the company shapes not just the work that they do, but rather the employee's daily, weekly and yearly experience with the company. Companies that are truly fixed on this core principle are likely far better off than those that don't.
This principle may seem counterintuitive or at odds with today's "gig economy," where so many workers control their own schedules, work for themselves and have more fluid jobs and careers – but it's actually quite complementary to today's environment. Flexibility and choice are the cornerstones of this gig economy. If corporate leaders prioritise their employees' flexibility and choice, they will be rewarded with stronger engagement, better productivity and higher retention.
---
This content was produced by the advertising department of the Financial Times, in collaboration with Baird.
Robert W. Baird Limited is authorised and regulated in the UK by the Financial Conduct Authority and affiliated with Robert W. Baird & Co. Incorporated.